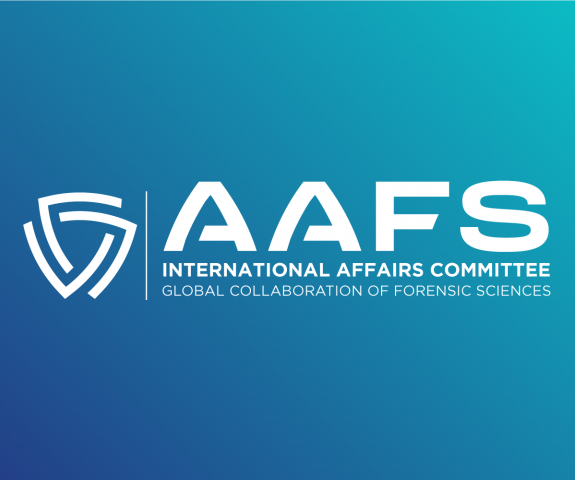 AAFS International Affairs Committee (IAC) – Global Collaboration of Forensic Scientists (GCFS)
The International Affairs Committee of the American Academy of Forensic Sciences is pleased to welcome you to AAFS IAC – GCFS Educational Webinar Series. This series is the result of global collaboration among various forensic science groups including the Internal Criminal Investigative Training Assistance Program (ICITAP).
The Department of Justice's ICITAP program works with foreign governments to develop professional and transparent law enforcement institutions that protect human rights, combat corruption, and reduce the threat of transnational crime and terrorism.
The AAFS IAC GCFS Educational Webinar Series is:
Dedicated to the production and distribution of scientific research and educational lectures to benefit forensic science and technology as well as society internationally, and
Endeavors to be a worldwide resource for expert assistance and collaboration, advancing justice for all
Using members of the Academy from all disciplines and speakers from a wide variety of organizations, these one to two- hour webinars will present detailed information on specific topics. Several webinars already presented have been well-attended and received tremendously positive feedback from participants. These webinars are free of charge and will be made available to Academy Connect to reach a wider audience.
We look forward to increased collaboration with our global partners and hope you will take advantage of these training opportunities presented by forensic experts across disciplines.
GCFS
Free Upcoming Webinars
Now Available on AAFS Connect
DNA Advances
Mark Mogle, ICITAP Assistant Director for Forensics
John M. Butler, Ph.D., NIST Fellow & Special Assistant to the Director for Forensic Science
Rockne P. Harmon, Esq. Law Enforcement Consultant on Such Issues as Cold Case Investigations
Global Collaboration of Forensic Scientists
Barry Fisher, GCFS Founder and AAFS Past President
Samiah Ibrahim, International Affairs Committee Chair
Dr. Laura Liptai, GCFS Founder and AAFS Past Officer
AAFS Connect
Save the Date
Missing Persons
September 20, 2023
Free to Register
Global Collaboration of Forensic Scientists
Barry Fisher, GCFS Founder and AAFS Past President
Samiah Ibrahim, International Affairs Committee Chair
Dr. Laura Liptai, GCFS Founder and AAFS Past Officer
Save the Date
Emerging Issues: Crypto Currency and the Dark Web
January 24, 2024
Global Collaboration of Forensic Scientists
Barry Fisher, GCFS Founder and AAFS Past President
Samiah Ibrahim, International Affairs Committee Chair
Dr. Laura Liptai, GCFS Founder and AAFS Past Officer