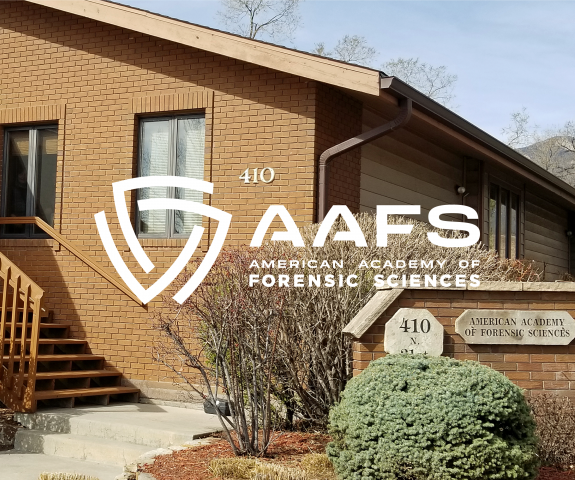 About the AAFS
The American Academy of Forensic Sciences (AAFS) is a multidisciplinary professional organization that provides leadership to advance science and its application to the legal system. Since 1948, we have served a distinguished and diverse membership. Our 6,000+ members represent all 50 United States and 71 other countries. Membership is comprised of pathologists, attorneys, dentists, toxicologists, anthropologists, document examiners, digital evidence experts, psychiatrists, engineers, physicists, chemists, criminalists, educators, researchers, and others. Our objectives are to promote professionalism, integrity, competency, education, foster research, improve practice, and encourage collaboration in the forensic sciences.
The American Academy of Forensic Sciences (AAFS) is a multidisciplinary, professional membership organization that provides:
Leadership to advance science and its application to the legal system
Education to elevate the accuracy, precision, and specificity in the forensic sciences
Initiation of actions and reactions to various and relevant issues by way of AAFS Position Statements and Statements from the AAFS Board of Directors
History of the AAFS - 1948-1998
Forge Your Legacy as a Forensic Scientist
Member Benefits
Each AAFS section provides opportunities for professional development, personal contacts, awards, and recognition. Sections keep their members informed regarding activities and developments in their fields through the AAFS weekly newsletter.
Create Free AAFS Account
$220 in savings with a reduced rate to attend the AAFS Annual Scientific Conference
Free or discounted access to AAFS Webinars, educational books, and other resources
Job opportunities and expert witness referrals
Section and Academy leadership opportunities with a voice in AAFS bylaws, policies, decision-making
Ability to serve on Section and Academy-wide committees
Vast networking and collaboration opportunities
Continuing education credit
Vision
To promote justice for all and integrity through forensic science. 
Mission
The American Academy of Forensic Sciences is a global, multidisciplinary membership community that provides collaborative research, quality education, and recognized leadership to advance forensic science to inform its application to the law.
Values
Integrity
Leadership and Public Awareness
Scientific Rigor
Collaboration and Excellence
Diversity and inclusion
Engagement and Connectivity
Bringing Excellence to our Members
Strategic Objectives
Membership
Increase membership through member value enrichment and engagement.
Marketing
Elevate the Academy's brand that symbolizes its leadership role in the global forensic science community.
Leadership
The Academy will strengthen its impact on forensic science through policy, advocacy, and education.
Sustainability
The Academy will expand fund development to pursue continued growth and financial stability.
Education
Enrich and expand forensic science learning opportunities utilizing new formats, technologies, and tools.
Association Academies
To initiate the consideration of an "association" relationship between AAFS and another professional organization located outside the United States, please see citation 1.5.5. of the AAFS Policy and Procedure Manual.
AAFS PPM
Cuban Society of Legal Medicine
About the AAFS Annual Scientific Conference
The AAFS Annual Scientific Conference is held in February and offers 1,000+ scientific papers to include oral presentations, poster sessions, workshops, breakfast and luncheon seminars, and other special events. The meeting is structured to represent the wide range of forensic specialties within the eleven sections represented by its membership.  The annual scientific meeting gathers these professionals who present the most current information, research, and updates in this rapidly expanding field.  The annual meeting fosters inclusiveness and diversity for the attendees spanning 60+ countries through collaboration, networking, and the cross-pollination of knowledge within the multidisciplinary forensic community.  Attendance and presentations are encouraged from members and nonmembers alike.  Various types of continuing professional education credit are offered to registrants.
Other note-worthy conference functions include:
Plenary and Keynote Session (session geared toward the President's meeting theme)
Academy-wide and section receptions to meet and network with other forensic professionals
Exhibit hall with 100-150 vendors
Academy-wide and section business meetings
Student Academy (session for local high school and college-age students)
Young Forensic Scientists Forum (networking session for new professionals)
Forensic Education Programs Accreditation Commission (FEPAC) (session for educators/administrators interested in applying for university program accreditation)
Humanitarian and Human Rights Resource Center Poster Session (session to learn about the application of forensic science to investigate humanitarian and human rights injustices)
Bring Your Own Slides (onsite opportunity to present interesting information/unusual case(s) that may be educational, entertaining, and blended with humor)
Employment Forum (opportunity for employers and applicants to meet)
University Fair (opportunity for FEPAC-accredited colleges/universities to promote their academic forensic science programs)
Community Outreach (offsite session open to local residents of all ages who have an interest in forensic science)