2023 FSF IAFS Scholarship Recipient Announced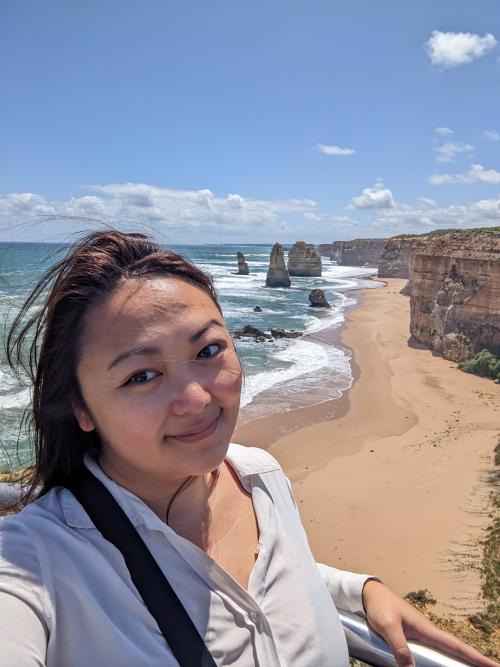 We are pleased to announce that the recipient of the 2023 Forensic Science Foundation (FSF) International Association of Forensic Sciences (IAFS) Scholarship recipient is Vienna Lam, MA, Student Affiliate of the AAFS Anthropology Section.
Taken from the clifftops of the 12 Apostles along Ocean Road, Vienna can be seen visiting one of the many beautiful yet treacherous drowning locations in southern Australia. Vienna's doctoral research focuses on aquatic human body detection, decomposition, and recovery, both in Canada and Australia. Her goal is to improve investigative success by building new tools to discern the postmortem journey of aquatically recovered human remains. Supported by the AAFS-FSF IAFS Award, Vienna is thrilled to be able to share her latest aquatic taphonomy research at the upcoming International Association of Forensic Science (IAFS) meeting in Sydney, Australia. Alongside her Ph.D. Supervisor Dr. Gail S. Anderson, Vienna has been collaborating with Dr. Samantha Rowbotham, Dr. Melanie Archer, and Dr. Gemma Carter from the Victorian Institute of Forensic Medicine on a retrospective 10-year review of all aquatically recovered human remains from Victoria, Australia. This project has been many years in the making but faced major setbacks and delays due to the COVID-19 pandemic. It is with great relief and joy that the results of this study can finally be shared with the broader forensic science community.
The 23rd Triennial Meeting of the International Association of Forensic Sciences will be held November 20-24, in Sydney, Australia.

Vienna will receive up to $5,000 to cover the costs of airfare, registration, housing, and per diem for five nights while in attendance of the meeting.
Disclaimer
The views and opinions expressed in the articles contained in the Academy News are those of the identified authors and do not necessarily reflect the official policy or position of the Academy.
Foundation News | Criminalistics