Dragan Primorac Receives Certificate of Appreciation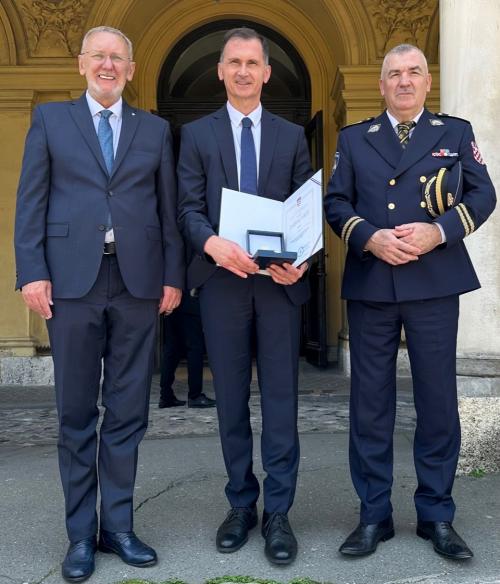 During the celebration of the 70th Anniversary of The Center for Forensic Examinations, Research, and Expertise "Ivan Vucetic" in Croatia, Professor Dragan Primorac, MD, PhD, a Fellow of AAFS, received a Certificate of Appreciation from Dr. Davor Božinovic, Deputy Prime Minister and Minister of Internal Affairs of the Republic of Croatia. Andrea Ledic, Head of the Center, also attended the ceremony.
The award was given to Professor Primorac for his exceptional contribution to science in the field of biomedicine and health care and for his work toward combating crime.
Professor Primorac is a pediatrician, geneticist, and forensic expert witness. In the early '90s, with colleagues from the United States, he pioneered DNA identification of skeletal human remains found in mass graves in Croatia and Bosnia and Herzegovina. He became the first recipient of the title "Global Penn State University Ambassador" since the University was established in 1855. According to one of the leading world publishers, Elsevier BV, Prof. Primorac is on the list of 2% of top world scientists for career-long and single-year impact.
Prof. Primorac serves as Chairman of the St. Catherine Hospital's Board of Trustees and the President of the International Society For Applied Biological Sciences (ISABS), sister Academy of AAFS, and The Croatian Society for Human Genetics, and The Croatian Society for (Precision) Personalized Medicine.
Additionally, he serves as an adjunct professor at Eberly College of Science, The Pennsylvania State University, and the University of New Haven in the United States, and as a professor at Medical Schools in Split, Rijeka, and Osijek as well as at REGIOMED Medical School in Germany. In March 2021, he was honored with the title "Professor Emeritus" at the National Forensic Science University of India.
He authored nearly 300 scientific papers and abstracts and 20 books or book chapters. Prof. Primorac has been invited to give lectures at 150 conferences all around the world. His work was published in the most cited journals, including Science and Nature, and his papers have been cited almost 8,000 times (Google Scholar). Prof. Primorac received 21 domestic and international awards. Among those is the "Mary E. Cowan Outstanding Service Award" by AAFS for his contribution to forensic science.
Disclaimer
The views and opinions expressed in the articles contained in the Academy News are those of the identified authors and do not necessarily reflect the official policy or position of the Academy.
Section News | Odontology
Section News | Anthropology