JFS Update and Call to Presenters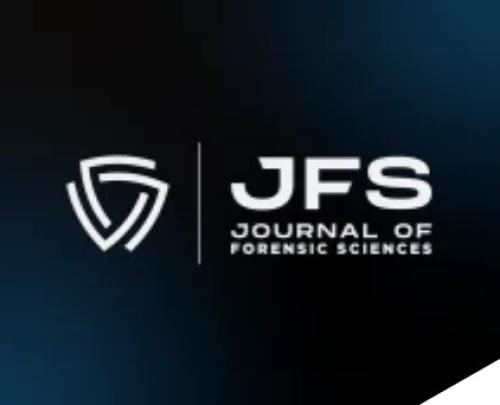 Thanks to the ongoing efforts of the Journal of Forensic Sciences (JFS) leadership team, we continue to grow our scientific recognition and improve our performance metrics. Included below are summaries of the key achievements during 2022. Thank you to all who have contributed, especially the JFS Associate Editors and the JFS Managing Editor. JFS leadership realizes the importance of turnaround time (TAT). Great strides have been made over the past few years to improve TAT, and efforts to continue to improve the process are ongoing. A few JFS performance metrics for 2022 are bulleted below. Additional JFS metrics are available here. Note: Weekends are included in TAT stats.
Average days from submission to first decision:  29 days
Average days from original submission to final decision:  44 days
Average days from final decision to Early View online publication:  18 days 
If you presented at AAFS 2023, please consider submitting your research to JFS. The electronic platform for JFS manuscript submissions can be accessed at: https://mc.manuscriptcentral.com/jofs; the JFS author guidelines are available at: JFS Information for Authors. Increase the visibility of your research and submit your manuscript to JFS – the official journal of the American Academy of Forensic Sciences (AAFS).  
The current JFS Associate Editors, together with respective specialty areas:
Anthropology – Ann H. Ross, Ph.D.
Digital & Multimedia Sciences – Douglas Lacey, M.S.  
Forensic Biology – Mechthild K. Prinz, Ph.D. 
Forensic Chemistry – Ruth Waddell Smith, Ph.D.
Odontology – Iain A. Pretty, D.D.S., Ph.D.
Pathology/Biology – Corinne L. Fligner, M.D.
Psychiatry & Behavioral Science – Daniel A. Martell, Ph.D.
Toxicology – Marta Concheiro-Guisan, Pharm.D., Ph.D.
Trace Evidence – Brooke Kammrath, Ph.D.
Madeleine J. Swortwood, Ph.D., has been appointed JFS Book Review Editor, replacing Heather M. Garvin, Ph.D. Dr. Garvin performed the JFS Book Review Editor duties since March 2019 with professionalism and integrity. She will continue to serve as a JFS Editorial Board Member. Our thanks and gratitude are extended to Dr. Garvin.   
We are pleased to announce the new appointments to the JFS Editorial Board, which occurred at the AAFS 2023 Board of Directors Meeting. The full JFS Editorial Board is available at: 2023-24 JFS Editorial Board 
Eric J. Bartelink, Ph.D.  
Soren Blau, Ph.D.  
Matthew Delisi, Ph.D.   
Sharon M. Derrick, Ph.D.  
Jayakumar Jayaraman, Ph.D.  
Nancy Laurin, Ph.D.  
Charla Marshall, Ph.D.  
Marin A. Pilloud, Ph.D.  
Peter A. Pizzola, Ph.D.
Gregory S. Wales, M.Sc.  
Shanna E. Williams, Ph.D.  
We would also like to recognize the following JFS Editorial Board Members for their service, as their terms ended in February 2023.    
Bradley J. Adams, Ph.D.  
Jane E. Buikstra, Ph.D.  
Christian Crowder, Ph.D.  
Richard L. Jantz, Ph.D.  
Wade C. Myers, M.D.  
James Pokines, Ph.D.  
Golden G. Richard, III, Ph.D.
Christopher B. Rogers, M.D.  
Carl N. Stephan, Ph.D.  
JFS continues to see an increase in content usage and engagement, with JFS downloads increasing by 67% over the past five years. Continuing to grow the readership, visibility, and utilization of JFS content is a key objective of the JFS Strategic Plan.
JFS continued its Noteworthy Articles initiative in 2022. The collection is available at:  JFS 2022 Noteworthy Articles. Additional information on the JFS Noteworthy Articles initiative is available HERE. 
JFS undertook a Special Issue initiative in late 2022. The articles solicited for the JFS Special Issue will be focused on "Fentanyl and its Analogs in Forensic Science." The goal is to publish the JFS Special Issue in mid to late 2023. Special Issues are a highly effective tool for increasing output of high-quality content, promoting a journal to a wider audience, and possibly increasing a journal's IF. 
The JFS Editorial Office launched a Forensic Lab Talks (FLT) Seminar Series in 2022, in partnership with Wiley, after ratification by the AAFS BOD. The FLT initiative is an enhancement to the existing JFS advertising program, with the virtual seminars sponsored by companies active in the forensic arena. Goals of the initiative include elevating the JFS/AAFS brand, providing AAFS Members with an opportunity to maintain skills and/or gain basic knowledge on forensic techniques at no cost, and driving increased membership in AAFS. The global reach has been wide, increasing the visibility of both JFS and AAFS.
JFS compiled a special Virtual Issue in September 2022, to celebrate National Forensic Science Week: Role of Forensic Anthropology in Mass Disaster Identification
JFS continued its social media (SM) initiative in 2022, utilizing the AAFS SM accounts to promote selected articles deemed to be high impact. These weekly JFS article posts are generated in collaboration with the AAFS Central Office.    
The new production workflow implemented for JFS, enabling authors to proof the HTML version of their article through Wiley's Central HTML Online Proofing System before typesetting, has resulted in improved export to online publication (Early View) TAT metrics for the production side of JFS. This process modification supports the JFS Strategic Plan objective to leverage modern digital platforms to improve author experience. 
JFS enhanced its submission process to accept embedded rich media, enabling multimedia items to be submitted and included in the published article, e.g., video and audio files. Enhancing the submission process to incorporate graphical abstracts is underway and is among the JFS Strategic Plan objectives targeted for completion in 2023.
The JFS leadership is excited about further improvements and enhancements scheduled for launch in 2023-24, and we look forward to announcing these developments over the next several weeks. 
Thank you for your continued support of JFS and its initiatives. For questions, please contact JFS Managing Editor Brenda Peat at bpeat@aafs.org       
Disclaimer
The views and opinions expressed in the articles contained in the Academy News are those of the identified authors and do not necessarily reflect the official policy or position of the Academy.