The 75th Anniversary Conference
February 13-18, 2023 | Rosen Shingle Creek Resort | Orlando, Florida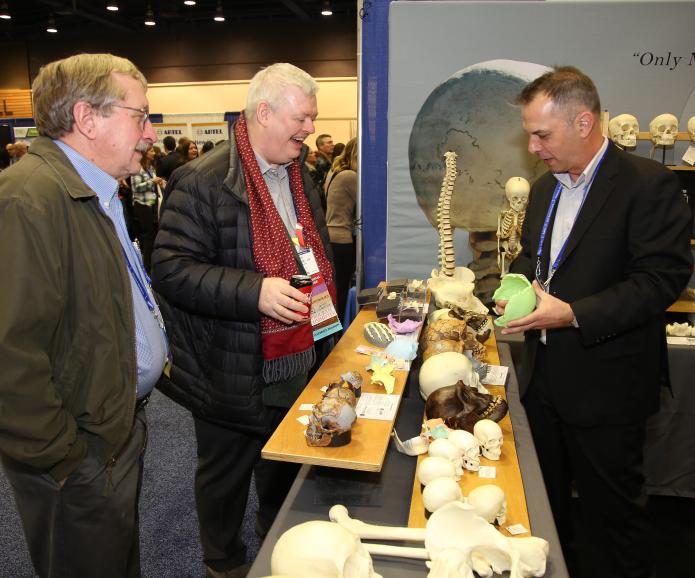 The AAFS Annual Conference is one of the largest gathering of forensic science professionals in the country. This is your chance to secure and grow business with loyal and appreciative customers, forensic agencies, research institutions, and more! Don't miss out on this exciting event and your chance to connect with today's top professionals.
Get involved!
Find out how you can be a part of our 75th Anniversary Conference. 
Why Exhibit?
By exhibiting with AAFS, you can talk directly with the forensic professionals who use your products or services, answer their questions, appeal to their special interests, discover unknown buying influences, and get valuable feedback about their needs.
You'll develop new customer contacts, demonstrate your products, increase your name recognition, and make known your organization's commitment to the cause of advancing science. Due to the synergistic nature of the audience, you'll reach many qualified prospects usually not encountered on your regular meeting circuit!
75th Anniversary Conference
The 2023 conference will be a celebration of the Academy's 75 years supporting science and justice. In addition to the standard high level of education and networking available each year, AAFS will be offering special opportunities and events throughout the conference to mark the special occasion.
Important Information
| | |
| --- | --- |
| Wednesday (2/15): | 11:30am – 4:00pm |
| Thursday (2/16) | 9:00am – 2:00pm |
| Thursday (2/16): | 6:00pm – 8:00pm (Wine & Cheese Reception) |
| Friday (2/17) | 8:00am – 2:00pm |
| Deadline to cancel | December 16, 2022 |
| Deadline to apply to exhibit | December 31, 2022 |
Contact
For more information, contact:
AAFS Exhibiting Team
exhibitors@aafs.org
719.636.1100 x118
Promotional & Advertising Opportunities
Maximize your company's presence at the AAFS 75th Annual Scientific Conference by investing in a sponsorship package designed to provide high-visibility branding and exposure opportunities before and during the event. With a variety of options and investment levels available, high-impact sponsorship packages are available to fit every budget and every need.
Contact Trisha DeLozier (tdelozier@aafs.org) for more information on sponsorship opportunities, or Kathy Howard (khoward@aafs.org) for information on advertising during the event. [link to sponsorship page]
Scam Notification
AAFS is aware that some exhibiting companies may be receiving emails from individuals claiming to represent the conference, offering to the AAFS Conference attendee list for current and previous years. AAFS does NOT work with third parties in selling/distributing any attendee information. Should you receive an email from any source offering you this information, you are advised to delete the email without response, as responding may signal to that scammer that you can be sent additional emails.
Everything you need
Conference Directory
Get involved in the AAFS conference and help better shape the community of forensic sciences.
Overview