ANSI Congratulates AAFS on Its 75th Anniversary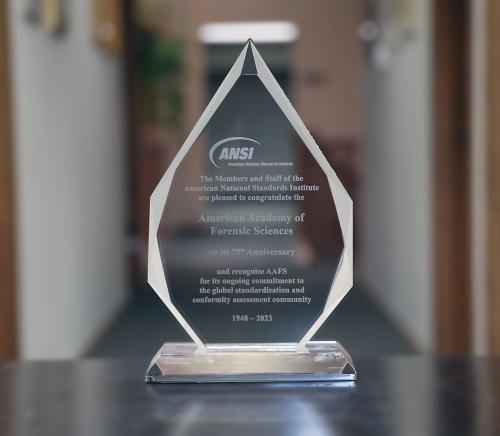 The American National Standards Institute (ANSI) recognizes the American Academy of Forensic Sciences (AAFS) on its 75th anniversary  with the presentation of a commemorative crystal to mark the occasion.
ANSI applauds AAFS on its commitment to advancing forensic sciences with leadership, education, research, and, through its Academy Standards Board, consensus-based standards. The vital contributions that AAFS has made to the forensic, criminal justice, and legal communities is laudable and has had a tangible impact in furthering justice for all. ANSI is proud to count AAFS as a valued member and accredited standards developer. 
Disclaimer
The views and opinions expressed in the articles contained in the Academy News are those of the identified authors and do not necessarily reflect the official policy or position of the Academy.